Fish Oil and Metformin to correct altered blood lipids and sugars in women with PCOS
Background
Polycystic ovary syndrome (PCOS) is the most common metabolic-hormone disorder affecting young women. The diagnosis of PCOS is associated with infertility and includes the presence of irregular menstrual cycles, multiple cysts in the ovaries and high blood levels of the hormone testosterone. Women with PCOS are more likely to be overweight or obese, and to have high levels of bad fats and sugar (glucose) in the blood, which are risk factors for Type-2 Diabetes and Cardiovascular Disease (CVD). Pre-diabetes or the metabolic syndrome includes risk factors of increased body weight, blood lipids, insulin and glucose. Currently, women with PCOS are lacking safe and effective treatments to target both the hormonal and bad fat levels in the blood. First-line interventions include diet and lifestyle, and the drug metformin is commonly prescribed to reduce high blood sugar, but these treatments do not improve blood levels of bad fats. Fish oil supplementation alone or in combination with metformin may be an option to improve testosterone levels and bad fats that cause cardiovascular disease in women with PCOS, however these outcomes and how they may work had not been investigated in women with PCOS. The findings of this study have provided strong scientific based evidence for the potential effective treatment of early CVD and Type-2 Diabetes risk factors in high risk young women with PCOS.
Aim
The aim of this pilot study was to determine the effectiveness of fish oil, metformin and fish oil in combination with metformin to lower blood fat, glucose and testosterone levels in high risk obese young women diagnosed with PCOS.
Study Design
This study was a randomized controlled intervention where all participants diagnosed with PCOS and the metabolic syndrome aged 18-30 yrs received first-line intervention of healthful dietary and lifestyle counselling, and then were assigned to receive i) fish oil, ii) fish oil and metformin, or  iii) metformin treatment alone for 12 weeks. Blood fat and glucose levels were compared before and after the intervention.
Outcomes Measured
Fasting and non-fasting blood fats and proteins, insulin and glucose were measured.
Blood fats and proteins that are associated with CVD included triglycerides, total cholesterol, low-density lipoprotein- cholesterol (LDL-C), high-density lipoprotein cholesterol (HDL-C) and apolipoprotein (apo)-B48 and -B100 remnants.  These apoB-remnants are cholesterol dense and cause vascular and heart disease.
Results
Following the interventions there was no difference in fasting or non-fasting insulin and glucose at baseline or post-intervention between groups. Fasting insulin tended to be lower by 17-30% in all groups post-intervention and this may be of clinical significance in individuals. There was no difference in fasting blood total cholesterol, LDL-C, HDL-C or apoB-remnant lipoproteins between groups at baseline or post-intervention. The fish oil+metformin intervention significantly lowered fasting plasma triglycerides by >40%, and in the fish oil intervention there was a trend for a reduction in TG by 20%. There was a trend for apoB48 to be lowered 15% in the fish oil and by 45% in the fish oil+ metformin groups
Conclusions
A 12 week intervention with metformin, fish oil and combination fish and metformin in high-risk women with PCOS and the metabolic syndrome has beneficial effects on insulin, which is a risk factor for transition to type 2 diabetes. The fish oil and metformin intervention has the most beneficial effects of blood triglycerides and apoB-proteins, compared to metformin and fish oil alone. These findings suggest the combination fish oil and metformin may be clinically significant in managing risk factors for both heart disease and diabetes in young women with PCOS and the metabolic syndrome.
Scientific Publication
Donna Vine, Ethan Proctor, Olivia Weaver, Mahua Ghosh, Katerina Maximova, Spencer Proctor.  (2021).  A Pilot Trial: Fish Oil and Metformin Effects on ApoB-Remnants and Triglycerides in Women With Polycystic Ovary Syndrome.  Journal of the Endocrine Society, 2021 Jun 19;5(9):bvab114.  Please click on the following link to read the article: https://pubmed.ncbi.nlm.nih.gov/34286169/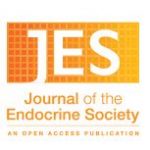 Scientific Presentations
The results of this pilot research have been presented at numerous scientific and clinical meetings of the Alberta Diabetes Institute, Women and Children's Health Research Institute, Canadian Lipoprotein Conference, Canadian Diabetes Association, Canadian Society Endocrinology and Metabolism, Androgen Excess and PCOS Society, Endocrine Society and the European Society of Endocrinology.
See attached poster presented at the Androgen Excess and PCOS Society meeting November 2020.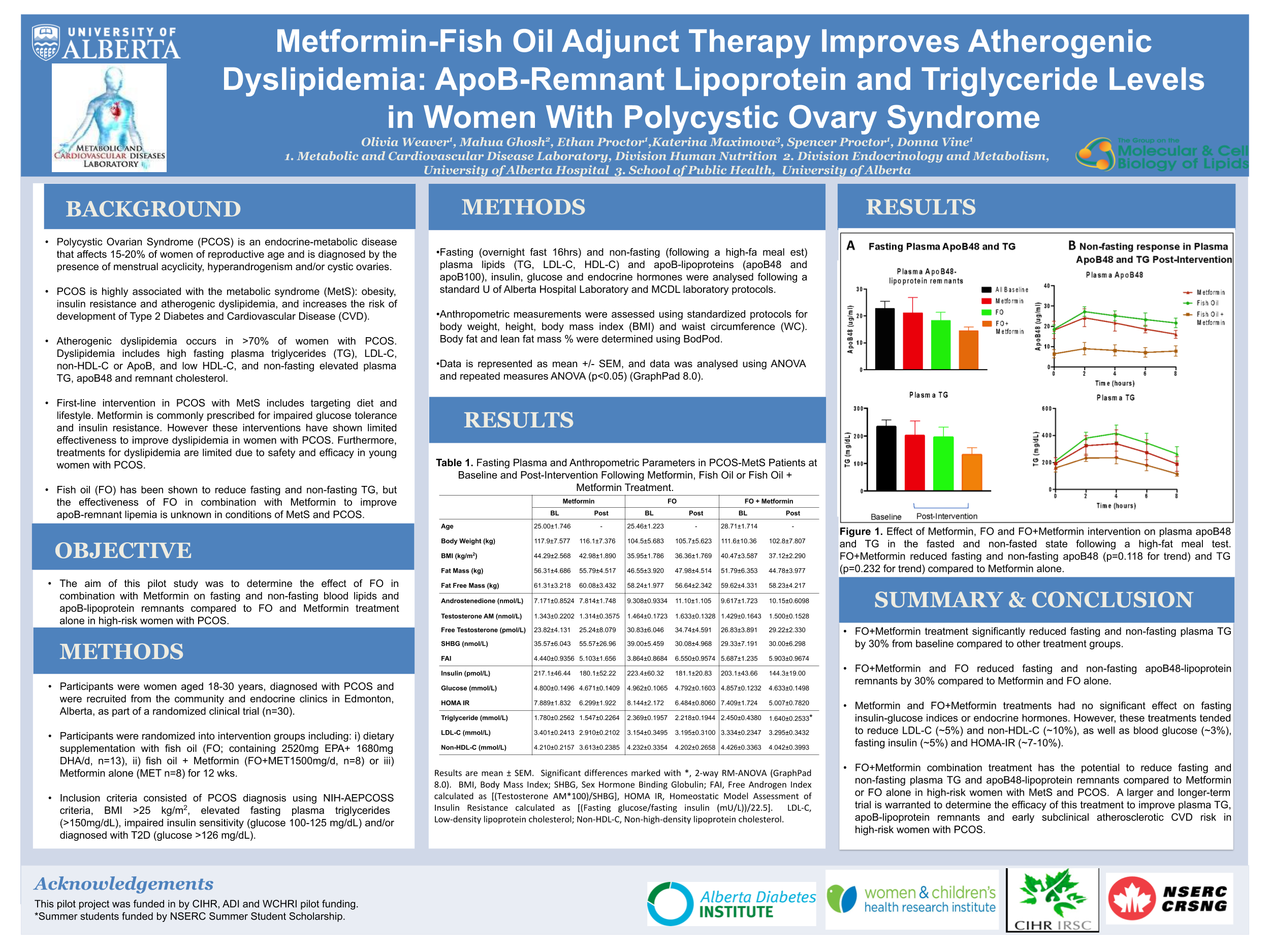 Acknowledgement of Funding
This pilot research was funded by Alberta Diabetes Institute, Women and Children's Health Research Institute and Canadian Institute of Health Research.